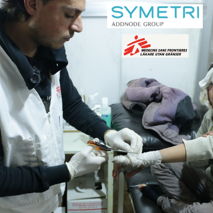 Symetri's fundraiser for Doctors without Borders
Donate
Created By:

Symetri

Collecting for:
Symetri's fundraiser for Doctors without Borders
PLEASE DONATE 5 EURO (50 SEK)!

For many years, Symetri has made Christmas donations to charity. Last year Symetri together with employees donated a great amount of money to Doctors Without Borders to support them helping refugees in the Syria crisis with for example mobile hospitals. During last year they helped out with 130.300 outpatient consultations, 3.500 emergency package distributed, 7.000 surgical procedures and 2.000 births.

Unfortunately the war in Syria is still going on and people are suffering. Together we can support Doctors Without Borders again.

Please donate 5 Euro (50 SEK). Symetri has donated 3.000 Euro (30.000 SEK) to start with. For each employee that donates 5 Euro, Symetri will donate the double amount 10 Euro and our goal is to collect at least 5.000 Euro (50.000 SEK) together before Christmas.

It´s a year old now but still quite valid; checkout Hans Rosling's factpod #17 on YouTube for facts!

Donate
Symetri donated 30,050 kr
Per Holmquist

donated

500 kr

Karin Pettersson

donated

300 kr

Symetri AB

donated

100 kr

Mats Forssen

donated

200 kr

ANDERS JANSSON

donated

50 kr

Jatta Kinnunen

donated

50 kr

Kai Helisten

donated

50 kr

Hans Zandhoff

donated

300 kr

Nisse Bengtsson

donated

300 kr

Eva Lång

donated

500 kr

För Ert fantastiska arbete.

Anette Wang

donated

100 kr

Symetri AB

donated

300 kr

John Bartle

donated

300 kr

Symetri AB

donated

11,900 kr

Dubblering av alla insättningar till och med den 18 dec

Pernilla Swartz Olsson

donated

100 kr

Jimmy Savheim

donated

300 kr

Frida Pettersson

donated

50 kr

Torbjörn Rask

donated

100 kr

Symetri

donated

100 kr

Läkare utan gränsers livräddande arbete stödjer jag gärna. Donera en gåva du också.

Amit Shabilla

donated

50 kr

Symetri

donated

200 kr

Fredrik Berg

donated

100 kr

Lars Rådman

donated

500 kr

Trym Holmedal

donated

100 kr