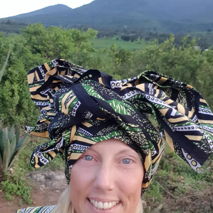 Created By:

Emma Vånemo

Collecting for:
A Walk Across Africa
Hi, I'm Emma from Sweden. I'm on my way to attempt to become the first woman in the world to cross Central Africa on foot. From the east coast to the west coast. All together I will walk across Tanzania, Rwanda, Kongo-Kinshasa, Kongo-Brazaville and Gabon. Roughly about 4700 km, solo.

It wouldn't feel right doing this trip without raising funds for charity. I hope this trip is interesting and exciting enough to follow and I would be so happy if you could consider to donate.

Congo-Kinshasa has a deeply broken history with a huge capital of violence. Abuse of power, corruption and lack of leadership prevent the country from developing. The lack of interest from the government to overcome internal conflicts in combination with multinational companies' interests in the country's natural resources creates polarization. Due to lack of responsibility, rebel groups have the opportunity to grow and establish themselves. Today, they control areas mainly in the northeast. Genocide and massacres occur repeatedly in these areas.
Sexual violence is a major problem and affects women and girls as well as boys and men. Doctors testify that they have not seen such brutality anywhere else in the world. Women are kept as sex slaves and gang-raped with harming tools and they can also be genitally mutilated by these men.
Armed violence has led to widespread humanitarian crises and displaced thousands of people. They have limited access to health care or none at all.
In addition to armed violence, outbreaks of infectious diseases such as measles, yellow fever and cholera are common. And malaria causes 4 times more deaths each year than conflicts, cholera, measles, encephalitis and lung infections combined. Ebola is recurring and has claimed many lives.
In Congo-Kinshasa, Médecins Sans Frontières has one of the largest initiatives in the world. They respond to acute crises such as disease outbreaks and support people fleeing violence and armed conflict. They also support the health authorities' programs for HIV and AIDS. To deal with the all-too-common outbreaks of infectious diseases, they have mobile teams that can be quickly dispatched to crisis areas.
M L

donated

300 kr

Anonymous User

donated

500 kr

Veronica Byrlén

donated

300 kr

Inga pengar världen kan beskriva hur fantastiskt imponerad jag är inte heller kan dom beskriva Vilken prestation du gjort!! ⭐️👏 wow vilken power kvinna 💪 så otroligt bra jobbat Emma!! 👏⭐️👏⭐️ STORT GRATTIS! Kram

Marie Bäcklund

donated

500 kr

Det sägs att "ingen kan hjälpa alla, men alla kan hjälpa någon" så med samlade krafter kan vi hjälpa någon! Tack Emma för ditt fantastiska initiativ och stort lycka till i livet!!/ Marie Bäcklund!

My Vånemo

donated

100 kr

Att min storasyster gör en sådan här grej är ju så sjukt häftigt, coolt och fantastiskt En stolt lillasyster helt klart!❤️

Riina de Silva

donated

300 kr

Gratulerar till den enorma prestationen Emma!

Ann-Mari Gedda-Johansson

donated

500 kr

Anna-Pia Wennerholm

donated

450 kr

Annika Linden

donated

300 kr

Anette Civilis

donated

300 kr

Vilken bedrift och fin tanke att göra det till en fantastisk god gärning! Heja heja 🥰

Anonymous User

donated

500 kr

Min dotters fantastiska vandring i Afrika❤️

Anonymous User

donated

100 kr

Eva Vånemo

donated

300 kr

Dom behöver all hjälp dom kan få. Och Emma som vandrat tvärs genom Afrika för att hedra dom är också värd att få detta önskemål./ Faster Eva Vånemo

Carina Andersson

donated

500 kr

Jag vill ge er en gåva, för att hjälpa min dotter. Just nu håller hon på avsluta sin vandring, från östkusten i Afrika till västkusten. Hon har som mål att samla in 20 000kr till er organisation. Ni gör ett fantastiskt arbete ❤️

Christina Stene

donated

1,000 kr

Miranda Larsson

donated

200 kr

Louice Persson

donated

300 kr

Anne Åkesson

donated

100 kr

Fredrik Andersson

donated

100 kr

Bernt Nilsen

donated

150 kr

Anonymous User

donated

300 kr

Beundrar ditt mod och din utstrålning! Stödjer gärna Läkare utan gränsers fina arbete

Anna-Lee Markstedt

donated

100 kr

För att du är så imponerande.

Lost Cyclist

donated

100 kr

Josefine R

donated

300 kr