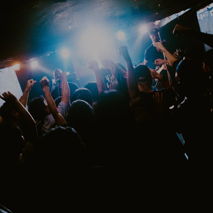 Created By:

Geir Pedersen

Collecting for:

Adhesive
Swedish punk band Adhesive donates the profits from their live shows to Medecins Sans Frontieres. Feel free to donate to our cause!
Donate
90,090 kr


Collected

90% 100,000 kr
PEOPLE OF PUNK ROCK

Donated

4,515 kr

Here is some money coming from Canadian fans!!!

Adhesive Punk rock

Donated

200 kr

David Grajera Jorba from Barcelona put 20€ extra to his T-shirt order. Thanks!

Adhesive

Donated

20,000 kr

Alvaro Sotomayor

Donated

500 kr

I promised that any money made by the Adhesive vids would be donated because that is going to take time here's a small donation to keep my promise! Thanks for the concert and for doing this! Alvaro//S.KÄRT

Geir Pedersen:

Thank you!

Marc Beauchamp

Donated

125 kr

Thanks for the kickass show in Montreal yesterday! Rock On!

Geir Pedersen:

Thank you!

Patrik Kilman

Donated

650 kr

Merchbord Karlstad!

Geir Pedersen:

Tack, Patrik

Emil Kilman

Donated

300 kr

Skänker en slant i samband med spelningen på Rock bar i Karlstad ikväll. Hoppas på att kunna komma förbi en sväng

Geir Pedersen:

Tack, Emil!

Adhesive Punkrock

Donated

5,000 kr

Geir Pedersen

Donated

10,000 kr

Pekka Multaharju

Donated

16,300 kr

Profits made from two Adhesive + One Hidden Frame shows in Finland. Thanks to all the people and supporting bands Deaf Penalty, Teresa Banks, M.O.R.A. and SOS/Siivoojat!

Geir Pedersen

Donated

7,500 kr

The merch sales from the Finland trip. Thanks for the support!

Adhesive

Donated

25,000 kr

First deposition from the band.