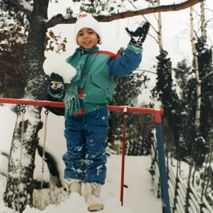 Created By:

Elsa Stefenson

Collecting for:
Elsa's birthday

Este año, mas que nunca debemos apoyar a los proyectos que aportan a los desprotegidos que necesitan nuestra solidariedad para sobrivivir a la crisis global que estamos enfrentando.
Gracias por tu colaboración!

This year, more than ever we must support projects that contribute to who needs our solidarity to survive the global crisis we are facing.
Thank you for your collaboration!

Donate
6,600 kr


Collected

132% 5,000 kr
Elsa Stefenson

Thank you everyone for the support to my campaign and that you made it possible to surpass the initial target. I really appreciate everyone's contribution. I am very grateful to have you all in my life. I hope we are able to hug soon! :)

Gracias a todos por el aporte a campaña y por haber hecho posible superar el objetivo inicial. Realmente aprecio la contribución de todos. Estoy muy agradecida de tenerles a todos en mi vida. ¡Espero que podamos abrazarnos pronto! :)


Mariann Breu

Donated

200 kr

Isabela Klemes

Donated

500 kr

jaime castillo

Donated

300 kr

Rafael de la Haza

Donated

1,000 kr

Gracias por todo Elsa. A brillar en todo lo que te propongas y que Dios te bendiga, siempre. Muchas felicidades!

Malin Larsson

Donated

300 kr

Födelsedagskramar från Nico och Malin

Jonas Abelsson

Donated

1,000 kr

Grattis Elsa! Önskar dig en fantastiskt dag på din speciella dag. Stora kramar, Jonas & Jörgen

Tatiana Florence

Donated

500 kr

Joao Cardoso

Donated

500 kr

ANNA PAOLA MINERVINI

Donated

500 kr

Elsa, donar a los demás es siempre la mejor manera de celebrar la vida. Feliz cumpleaños! Besos. Anna Paola

Andrés Figueroa

Donated

500 kr

Sebastian Carmona

Donated

1,000 kr

Elsa te quiero mucho, ha sido un placer encontrarte. De verdad

Elsa Stefenson

Donated

300 kr