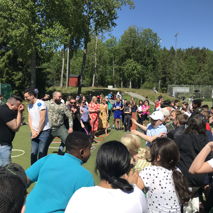 Internationella Engelska Skolan 2021
Donate
Created By:

Internationella Engelska Skolan Huddinge

Collecting for:
Internationella Engelska Skolan 2021
With all that is going on in the world right now, we wanted to come together as a school to a little to help those who are struggling the most during this time. If you can please donate a few kroner to support and remember to type in your (or your child's) class. The class who raises the most funds will be able to throw water baloons at their teachers and the vice principal.
Mimi Haptén

donated

100 kr

Erik Jönsson

donated

100 kr

björnerik larsson

donated

100 kr

Mats Johansson

donated

302 kr

Inger Johansson

donated

500 kr

David Lundstedt

donated

300 kr

Kiros Bezen

donated

100 kr

Lena Karlsson

donated

300 kr

Marie Bachhausen

donated

500 kr

Donation for all classes from Ms. Bachhausen's parents (100 kr per class) :)

Marie Bachhausen

donated

500 kr

Donation for 6E from Ms. Bachhausen

Marie Bachhausen

donated

500 kr

Donation for 6C from Ms. Bachhausen

Christina Sjöberg

donated

450 kr

Anna Sandqvist

donated

50 kr

Katia Wedberg

donated

100 kr

Engelska skolan Huddinge 6A

Magdalena Severinsson

donated

133 kr

Sebastian Källsteöm

donated

50 kr

Maria Winterbacke

donated

100 kr

Daniel Jönsson

donated

500 kr

Michaela Sjöberg

donated

50 kr

Johanna Moll

donated

50 kr

Margrethe Holm

donated

300 kr

Taija Marimon

donated

300 kr

Nivetha Nirmalathas

donated

50 kr

Ann Ceulemans

donated

200 kr