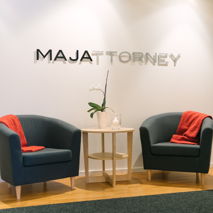 MAJATTORNEY FOR TURKEY AND SYRIA OR OTHER LIFE SAVING AID IN OTHER CRISIS
Donate
Created By:

MAJATTORNEY Maja Fohlin Gyllner

Collecting for:
MAJATTORNEY FOR TURKEY AND SYRIA OR OTHER LIFE SAVING AID IN OTHER CRISIS
MAJATTORNEY 9 år !

Som tack till alla som gjort det möjligt för mig att driva verksamheten MAJATTORNEY i nio år ger MAJATTORNEY bidrag till Läkare utan gränser genom Fundraising "MAJATTORNEY for Turkey and Syria or other life saving aid in other crisis".

Välkommen att bidra och delta i insamlingen du också!
Donate
MAJATTORNEY Maja Fohlin Gyllner donated 4,500 kr
Lars Fohlin

donated

1,000 kr

MAJATTORNEY Maja Fohlin Gyllner:

Tusen tack!

Birgitta Keller

donated

300 kr

MAJATTORNEY Maja Fohlin Gyllner:

Tusen tack Birgitta!

MAJATTORNEY

donated

4,500 kr

For life saving aid in Turkey and Syria and in any other life saving crisis