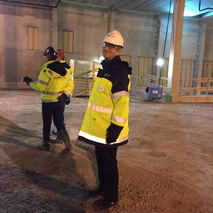 Created By:

Helen Fröderberg

Collecting for:

Roland Garoby
Roland Garoby will be leaving ESS later this month, and instead of asking for contributions to buy him a going away present, we have instead started a fundraiser in his name to help people in crisis around the world in areas of natural disaster, war, epidemic or famine.

All contributions are appreciated, and in this way you can help alleviate suffering in peoples' lives now.

Please also note that you can make a joint contribution and also be anonymous.
Donate
10,650 kr


Collected

107% 10,000 kr
Therése Welaner

Donated

300 kr

Thank you Roland for great collaboration over the past years! I wish you all the best with your future endeavours! I hope this gift will help give someone else a brighter future too. All the best, Therése

Anonymous User

Donated

50 kr

Evan Foy

Donated

500 kr

In the name of Roland Garoby.

Sofie Svärd

Donated

50 kr

Christine Darve

Donated

200 kr

Rihua Zeng

Donated

300 kr

Andreas Schreyer

Donated

300 kr

All the best for your next attempt to retire. Andreas

Linda Björk

Donated

300 kr

Wishing you a Joy and peaceful retirement.

Anonymous User

Donated

200 kr

Thanks for all your help and support over the years. All the best for the future

Agneta Nestenborg

Donated

300 kr

Roland, I wish you a very relaxing yet inspirational retirement. Look after yourself and your family. Very warm regards from you Director colleague /Agneta

Louise Wijkström

Donated

100 kr

Thanks for this time, I wish you all luck, Regards Louise Wijkström

Jaime Arriagada

Donated

300 kr

Karin Helene

Donated

500 kr

Mamad Eshraqi

Donated

100 kr

Salut Roland, Hope you leave ESS with good memories and come back when we have the beam.

Hilko Spoelstra

Donated

100 kr

Jörgen Larsson

Donated

100 kr

Meredith Shirey

Donated

300 kr

Anders Sunesson

Donated

300 kr

Emelie Nilsson

Donated

100 kr

Anonymous User

Donated

200 kr

Enjoy family, skiing, travel and just free life.

Michael Plagge

Donated

100 kr

Erica Lindström

Donated

100 kr

Happy painting and hiking Roland!

John Haines

Donated

1,000 kr

Best wishes for a long and joy-filled retirement

Iñigo Alonso

Donated

100 kr